Anderson Clinic Review
The Anderson Orthopaedic Clinic is an orthopedic center that provides specialized care in orthopedics in the Northern Virginia area. The clinic was founded in 1941 by Otto Anderson Engh, M.D. as the medical center for the treatment of children crippled by polio. The clinic has later expanded to a full range of orthopedic services provided by highly-professional physicians.
For more than 77 years, the physicians of the clinic have practiced advanced techniques in the diagnosis and treatment of orthopedic conditions. The company ensures that each patient is able to achieve the best possible outcome.
Hospital Affiliations
Anderson Orthopaedic Clinic is affiliated with 4 hospitals:
Harborside Surgery Center;
Inova Mount Vernon Hospital;
Fairfax Surgical Center;
Inova Alexandria Hospital.
Services
Anderson Orthopaedic Clinic provides a wide range of orthopedic services. The clinic's physicians can cope even with the most complicated orthopedic conditions The clinic's specific orthopedic treatments and services include:
Upper Extremities;
Shoulder Replacement;
Spine Care;
Foot & Ankle;
Knee Replacement;
Sports Medicine;
Hip Replacement.
Doctors
The physicians of the clinic have all the necessary skills and knowledge for diagnosis and treatment in orthopedics. They specialize in joint replacement, arthroscopic surgery, foot and ankle care, sports medicine, and spine care. The team of Anderson Clinic has undergone specialized training in orthopedic surgery and related areas within the field of orthopedic medicine. The physicians are supported by professional assistants, X-ray technicians, athletic, physical and occupational therapists, registered nurses, and administrators.
Below you can meet some of the physicians working at Anderson Clinic. The comprehensive list of the clinic's specialists can be viewed on their website.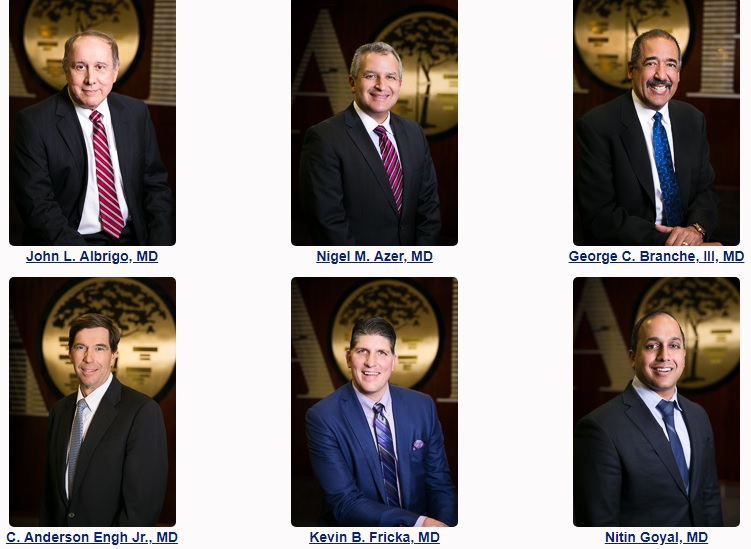 Locations
The Clinic provides care throughout Alexandria and Arlington.
Arlington Office
2445 Army Navy Drive
Arlington, VA 22206
Mount Vernon Hospital Office
2501 Parkers Lane
Suite 200
Alexandria, VA 22306
Lorton Office
10716 Richmond Highway
Lorton, Virginia 22079