The Surgical Clinic Review
The Surgical Clinic is a private company based in Middle Tennessee that includes private practice surgeons who perform various types of surgeries. The clinic has been providing patients with access to important surgical procedures since 1997. The clinic's surgeons are specializing in general surgery, bariatrics, veins, breast, bowel, cancer, reconstructive and cosmetic surgeries. Moreover, the company has its own accredited CT center, a Vascular Office-Based Procedure Center, Ultrasound Labs, and a Prosthetic Service. The Surgical Clinic aims at getting patients back to their life as quickly as possible.
The clinic's website is an informational guide that will give you easy access to their services, doctors, phone numbers and locations.
Divisions
The Surgical Clinic's divisions include:
General Surgery;
GERD Center;
Imaging & CT;
Prosthetic Institute;
The Vein Centre;
Vascular Services;
Breast Cancer Surgery;
Mid-South Surgeons;
TSC Rutherford;
Surgical Oncology;
Plastic & Cosmetic Surgery;
Bariatric Surgery.
Surgeons
Most of the clinic's surgeons are members of the American College of Surgeons. Each their surgeon has proper education and training, highest professional qualifications, surgical competence, and ethical conduct. They are said to be consistent with the high standards established by the American College of Surgeons.
The Surgical Clinic ensures that all their specialists are Board Certified in their respective specialties.
You can see some of the clinic's surgeons below. The entire team can be viewed on the clinic's website.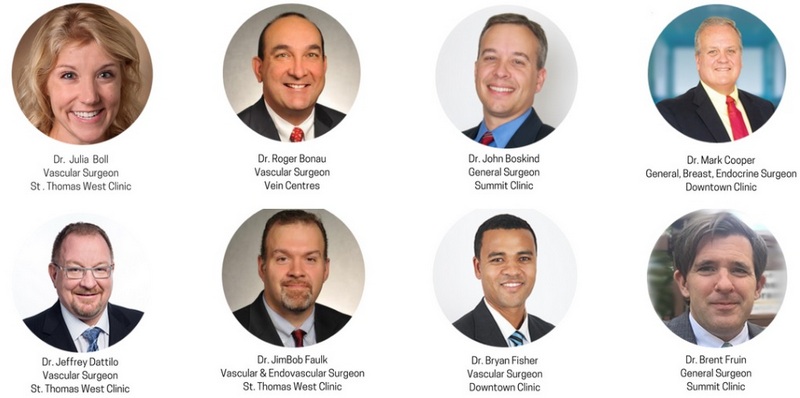 Locations
The Surgical Clinic has locations throughout Middle Tennessee. The website provides comprehensive contact information, including hours, phone numbers and directions.
Downtown Clinic
356 24th Ave. North, Suite 400, Nashville, TN 37203
Saint Thomas West Clinic
4230 Harding Pike, Suite 525, Nashville, TN 37205
Skyline Clinic
3443 Dickerson Pike, Suite 600, Nashville, TN 37207
Rutherford
515 StoneCrest Pkwy., Suite 230, Smyrna, TN 37167
Summit Clinic
3901 Central Pike, Suite 555, Hermitage, TN 37076
The Lett Center For Plastic Surgery
660 South Mt. Juliet Rd., Suite 210, Mt. Juliet, TN 37122
The Lett Center Lebanon
1417 West Baddour Pkwy., Suite B, Lebanon, TN 37087
Vein Centre at Mt. Juliet
660 South Mt. Juliet Rd., Suite 211, Mt. Juliet, TN 37122
St. Thomas Midtown Center for Surgical & Medical Weight Loss
2004 Hayes St., Nashville, TN 37203
Vein Centre at Aspen Grove
125 Cool Springs Blvd., Suite 250, Franklin, TN 37067
Vein Centre at Belle Meade
4535 Harding Rd., Suite 304, Nashville, TN 37205
The Surgical Clinic The Cosmetic Surgery and Skin Center
4322 Harding Pike, Suite 326, Nashville, TN 37205
CT and Imaging Department
356 24th Ave. North, Suite 300, Nashville, TN 37203
Prosthetics Institute
356 24th Ave. North, Suite 300, Nashville, TN 37203
Vascular Procedure Centre
85 White Bridge Rd., Second Floor, Nashville, TN 37205
Murfreesboro
2933 Medical Center Pkwy., Suite D, Murfreesboro, TN 37129
Gallatin
300 Steam Plant Rd., Suite 300, Gallatin, TN 37066
Columbia Bariatric Clinic
1040 N. James Campbell Blvd., Suite 101, Columbia, TN 38401
Mt. Juliet Clinic
660 South Mt. Juliet Rd., Suite 211, Mt. Juliet, TN 37122
Mid-South Surgeons
1222 Trotwood Avenue – Suite 211
Columbia, TN 38401